With a deft touch and by listening to the customer, Serviini -Restaurants, in the heart of Savonia, can conjure up any type of setting in the spectacular Mikaeli Concert and Congress House, which facilities can be adapted to events of any size.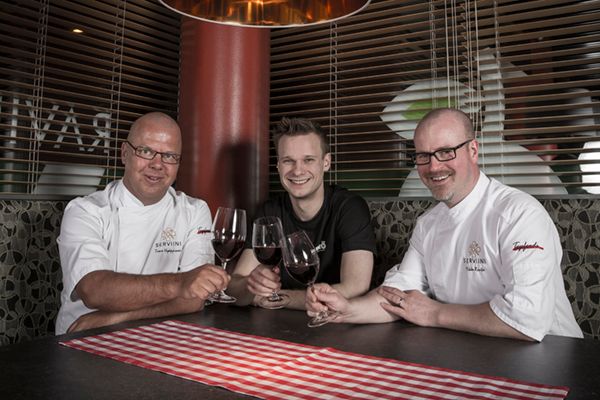 The smiling entrepeneurs of Serviini, Timo, Henrik and Mikko at Restaurant Vino.
Serviini, established in 2015, is a privately owned restaurant business in Mikkeli, and currently operates four restaurants and catering. "Serviini is run by the owners, two chefs and one restaurant manager, i.e. Messrs Timo Hyöppinen and Henrik Rajamäki, as well as me. Our main thing is to serve the customers with a brisk touch, a positive frame of mind and solid workmanship. In our restaurants and catering, we use both typical local produce from the Saimaa region and Mediterranean delicacies, or whatever our customers want us to do for their events," explains entrepreneur Mikko Ranta.
Ranta stresses that Serviini is a flexible local company that operates by listening to the customer. "The most important things in customer service are straightforwardness and individuality, regardless of the kind of occasion or celebration." At the moment, there are 20 Serviinians taking care of the customers.
Every restaurant is an individual
Even Serviini's restaurants are individuals. "Each one of our restaurants has its own unique concept. Restaurant Pitopata is a lunch and banqueting restaurant in the old and still active military area of the Savonian Brigade. Restaurant Vino is an easygoing dining restaurant in the centre of Mikkeli. Vino was born out of the owners' passion for Mediterranean gastronomy, which is close to our hearts with regard to both food and wines. In October, we will open a new restaurant named August in the historical garrison area in Mikkeli. August will have 60 seats and what it will offer represents classic gastronomy with French nuances."
Mikaeli offers versatile facilities for events
In a league that is quite its own is also the Mikaeli Concert and Congress House, on the shore of the scenic Pankalampi lake. Mikaeli's versatile and atmospheric facilities can also be adapted for various events. "Each year, the building hosts concerts and conferences, smaller meetings and festive occasions," states Mikkelin Mikaeli's Managing Director Miia Korja. She goes on: "If you like, you can use the concerts that are hosted in Mikaeli as a nice supplementary program on a meeting day." Ranta adds, "We also arrange an event called Makujen Mikaeli (The Tastes of Mikaeli) ourselves each spring, which is built around wine and food. It is a mini fair for diners, where there are themed tastings, lectures and dinner," Ranta hints.
Mikaeli is a fantastic masterpiece of Finnish architecture, with a spectacular frame. "It may even give the wrong impression, since in reality, Mikaeli's bright premises offer an excellent venue for smaller-scale events too. It is always worth asking, because you may be surprised by the options Mikaeli can offer!"
Event catering is handled by Serviini. "We have ready-made conference packages and menu suggestions, but Serviini's professional service means you can always plan your catering according to the event and your wishes as the customer. That may mean, say local meals made using local food from local producers," adds Korja.
Nature and free parking as bonus
Korja brings up Mikaeli's location on the shore of the beautiful Lake Pankalampi. "The surroundings of the lake have undergone a facelift, so a beautiful landscape is laid out through the windows in every season. If you want, you can also extend your events out onto the terrace or into the grounds. Getting here is also easy, because we have free parking for 167 cars and we are only one kilometer away from the center of Mikkeli."
Text: Mia Heiskanen
Would you like an easy, well-run,
high-quality event in the heart of Savonia?
Contact myynti@serviini.fi
or info@mikaeli.fi