Many people think that a window simply keeps the cold out and the heat in. The Tiivi Connect product family provides a new generation of windows with passive antennae, remote-control smart blinds, sensors, and a mobile application.
Minna Keränen, Marketing Director at market leader Inwido Finland, says that the Tiivi Connect product family has been created in order to meet the customers' present and future needs. "Based on our trend barometer, customers are interested in smart technology, but they also value residential comfort, simplicity, and safety. This has been the guiding principle behind the Tiivi Connect product family: using new smart technology, we aim to offer consumers sustainable and innovative solutions that add comfort to living conditions."
By constantly interacting with consumers we can offer smart solutions that improve people's life at home. Inwido Finland's brand portfolio includes the brands Pihla, Tiivi, Klas 1 and Lämpölux.
Tiivi Connect Antenna solves reception problems at home
The Tiivi Connect Antenna is a patented window solution that improves reception and data transmission of mobile phones indoors. "On the one hand, people are buying more electronic devices for their homes, which will in the future call for more and faster data communication. On the other hand, data traffic indoors has become an even bigger challenge than before, because of solid, energy-efficient structures. The Tiivi Connect Antenna is a new window solution that uses a passive antenna which has been integrated into the window to direct the signal efficiently into the interior of the residence, meaning that signal penetration can be increased up to a hundredfold. And best of all, instead of a single old window, you can also install a Tiivi Connect Antenna window, thus solving reception problems in hard-to-reach places, like a workroom.
The Tiivi Connect Antenna has also other details that make everyday life easier: the passive antenna is integrated into the window and does not need any maintenance or replacement. It is also not visible from the outside, nor does it restrict basic window functions.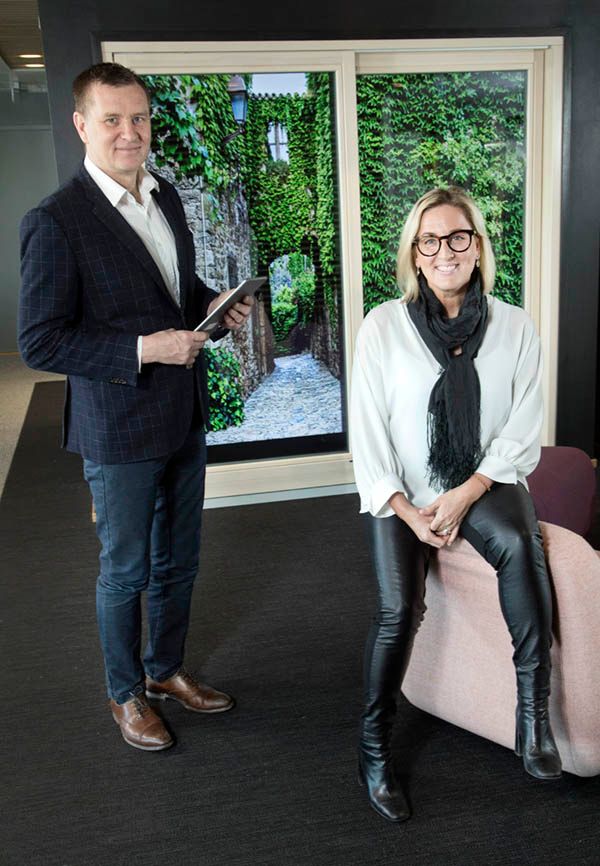 Marketing Director Minna Keränen intends to improve the quality of Finnish housing by bringing up the new opportunities offered by windows and doors. Managing Director Johan Berg holds tablet in his hands which manages the intelligent functions of Tiivi windows and doors.
Control smart blinds via your mobile phone!
The Tiivi Connect product family also extends smart solutions to high-quality blinds that, alongside the traditional wall switch, can now also be controlled via the Tiivi Connect mobile application. "In practice, this means that you can set the blinds, even in the middle of your working day when the sun is scorching, so that your home is comfortably cool at the end of the workday. By using the remote control for the blinds, you can keep your home looking lived-in during vacations to prevent burglaries."
Did you leave the window open?
The Tiivi Connect window and door sensors also improve home security. "When there are sensors in the windows and doors in your home, you can check whether you left a window or door open when you left home via an application. The application cannot yet close them, but that may also be a possibility in the future," Keränen notes.
Text: Mia Heiskanen